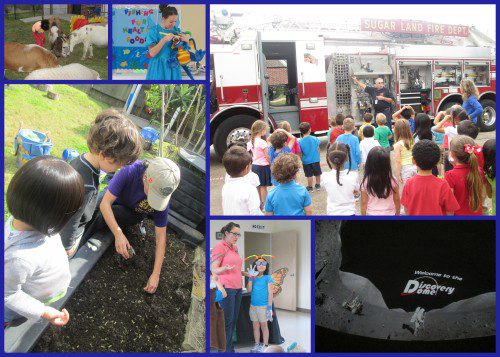 18 May

Another Amazing School Year!

It is our last week of school! What a wonderful year we have had. Every year brings new adventures.

This year:
We started school learning about our new friends and our families.
Our brains are overflowing with knowledge! In class, we learned about: feelings and emotions, our bodies, our senses, vertebrates and invertebrates, hibernation, weather, insect, transportation and our solar system – just to name a few!
We did a lot of cooking! Applesauce, butter, mashed potatoes, vegetable pasta, fruit salad and more!
The Houston Museum of Natural Science taught us about vertebrates, butterflies and weather.
The Sugar Land Fire Department visited when we were learning about community helpers.
The Tooth Fairy and the Dental Dino taught us how to take care of our teeth.
Our parents shared the special holidays they celebrate at home. We learned about Christmas, Las Posadas, German Christmas, Diwali and Chinese New Year!
We donated food and toys to the Fort Bend Women's Center.
We planted new veggies in our garden. Beans, cucumber, squash, eggplant, artichoke, cauliflower, broccoli, etc.
Our apple, fig and pomegranate trees are overflowing with fruit! We can't wait to try them.
We watched caterpillars turn into butterflies in our classroom and garden.
We played new instruments in music class, and learned lots of new songs.
We learned about our seven continents; then we each highlighted a different continent in our classrooms and had a big party. We traveled the world without leaving our school!
Some of us became big brothers/sisters
Some of us had teeth come in, while others lost baby teeth
Some of us started reading and writing.
Others said their first words!
A few of us learned to walk, while the rest of us learned to run faster.
To top it all off, we will have a big celebration this week! We have been practicing songs to sing to our family on Thursday, and on Friday our teachers have lots of fun surprises for us.
Thanks for another AMAZING year!